The appointment of the new Haldimand Norfolk Acting Medical Officer of Health, Dr Matt Strauss, was announced last week.
Writing in her own words in this week's issue of the Maple Leaf, Kristal Chopp provides her views on the appointment, which has drawn wide interest.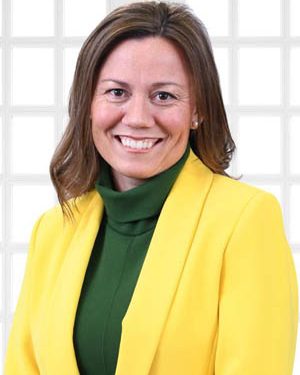 By Kristal Chopp
Norfolk County Mayor and Haldimand Norfolk Board of Health Chair
I THOUGHT IT WAS important that I address some of the media attention that has come with the unanimous appointment of Dr. Strauss as our acting Medical Officer of Health. I'm not going to speak on behalf the Board of Health – the Board can decide to provide a formal statement if they wish, but I wanted to address the issue from my perspective.
First, let me state that Dr. Strauss doesn't wear a tin foil hat, attend QAnon meetings or espouse conspiracy theories. He is a practicing medical doctor, a journalist and an academic who is part of the faculty at Queen's University. Dr. Strauss works in the intensive care unit, treating COVID patients on the front line, far more COVID patients I am willing to bet than his most ardent critics who have decided to judge him and our Board of Health.
When Liberal health critic MPP John Fraser was quoted on Friday as saying Dr. Strauss opposes "life-saving public health measures," I was deeply offended. To think that our Board of Health or I would put our residents at risk – is preposterous and cheap political theatre. Let me make this Kristal Clear, Dr. Stauss believes in vaccinations, which the last time I checked is the strongest public health measure we have available in our toolbox. Yes, he has held a critical viewpoint on some COVID19 measures – for the record, so too have I.
John Fraser went on to say that if the Premier didn't veto the appointment of (our) MOH, then it would mean Doug Ford's government was blatantly pandering to the anti-science fringe. Besides the fact that Fraser ought to know the bounds of provincial legislation and the fact that the Premier can't veto an acting MOH, I would wager that each of you have at some point questioned things like:
o Why in Ontario could large corporations like Walmart remain open, while your local small businesses were shuttered?
o Why you could stand in line at the Superstore but not take a walk in the park?
o Why you could sit amongst a crowd at the beach, but not one-on-one with your hairdresser donning full PPE?
I am reminded of a quote from Marie Curie, the first woman ever to be awarded a Nobel Prize in 1903. Being a female scientist at the turn of the last century was a rare thing and I can only imagine how she was scoffed at, underestimated and minimized without a solid review of her merit.
She once said "Nothing in life is to be feared. Now is the time to understand more and fear less." That quote is more than 100 years old but it is just as appropriate today than ever before as society deals with COVID19.
Questioning theories and assumptions doesn't make you or I part of the "anti-science fringe," any more than it does Dr. Strauss. Science is never absolute and any good ethical scientist should always be questioning, especially with something as novel as COVID19, something none of us have ever dealt with before.
As many of you know, I am also an international airline pilot and likely the only politician in the world that has travelled the globe throughout this entire pandemic. I've travelled to countries in Asia, including the Middle East, South America and across Europe.
I can assure you, lockdown measures have varied dramatically from country to country, in fact they vary from province to province here on home soil. Despite the fact Toronto was the city in the longest lockdown around the world – and Ontario had some of the most stringent measures – our background risk was the same or worse than most of the countries I travelled to – even the ones where the hairdressers and other small businesses remained opened.
What that tells me is that no one has all of the answers or the solution to this crisis and we should be open to different viewpoints, to continuously reexamine the data and to never shut down debate.
I am not a typical politician. If I were, I could have chosen the easy candidate or I would be looking to change my mind, falsely alleging that I didn't google the man.
"I urge you to look past the cheap headlines and over the coming months make your judgement based on how Dr. Strauss actually performs."
Make no mistake, the Board of Health did know about Dr. Strauss' colourful twitter feed and his journalism stories. To suggest otherwise is frankly insulting to our staff who most certainly did do their due diligence, as they would for any position in the corporation. The concerns surrounding Dr. Strauss' very public account were discussed at length by all staff members present, as well as by each member of the Board.
I chose to look past the attention seeking 280 character tweets. COVID is a complex issue, as is being a Medical Officer of Health during a pandemic, particularly one in a county with a complex history with COVID measures and a low vaccination rate.
I know many of you are deeply concerned by this appointment, but as the Board Chair I want to assure you that as our Acting Medical Officer of Health, Dr. Strauss won't be a journalist – he will no longer be putting out attention-grabbing, controversial tweets. He will follow all rules declared by the Province and encourage all members of our community to do the same, not only because legally he is bound by provincial decisions but because Dr. Strauss understands his new mandate and the great responsibility that carries.
That said, it is my hope, that Dr. Strauss will raise legitimate concerns with his new colleagues at the Province, in a fact-based manner, that he will challenge assumptions and search for understanding, and never be subject to twitter group think.
I also hope that Dr. Strauss will be able to administer the Provincial rules in a manner that all of the residents in our health unit will respect and he will work closely with those that need extra assurance.
With 30% of the H-N population remaining unvaccinated, there is a large challenge ahead of us. The status quo hasn't worked but maybe, just maybe, someone like Dr. Strauss can provide a unique perspective and better connect with those that remain skeptical that vaccinations are indeed our way out of the pandemic.
I urge you to look past the cheap headlines and over the coming months make your judgement based on how Dr. Strauss actually performs. If he can work to save your life in the ICU, I think he deserves a chance to prove himself as our Medical Officer of Health.